Executive Director – AIA Seattle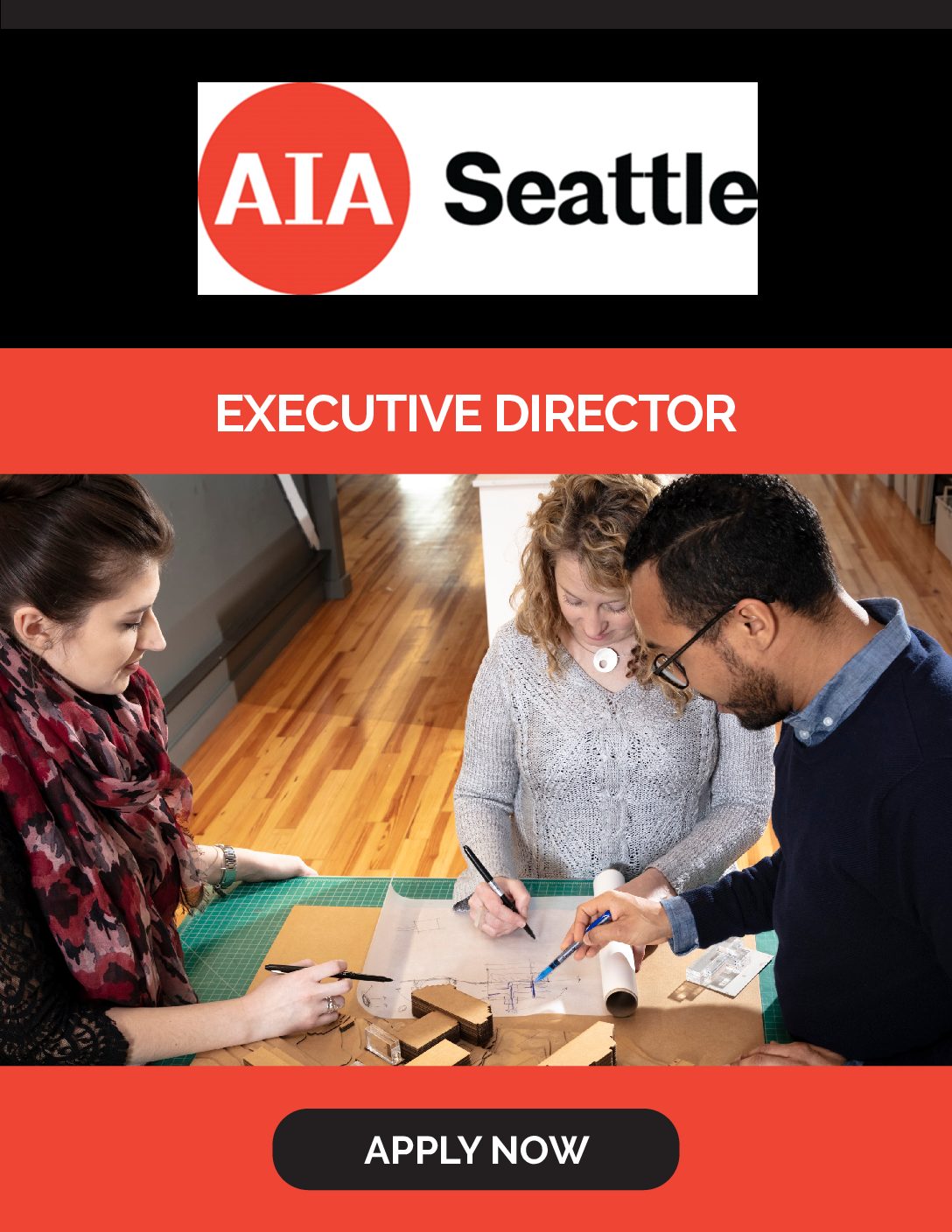 AIA Seattle champions the visionary and integrative thinking of architects and designers. We believe that responsible design solutions can positively impact our region, and our community of engaged and committed members, partners, and staff work collaboratively to promote the central role of architects in creating and sustaining a better built environment in the communities where we live and work.
A chapter of the American Institute of Architects, AIA Seattle is a 501(c)(6) non-profit membership service organization that is deeply engaged in the community. Founded in 1894, AIA Seattle supports more than 2,500 architects, emerging professionals, and allied individuals throughout the Puget Sound region. AIA Seattle is the 5th largest urban component of the American Institute of Architects and one of four local Washington components affiliated with AIA Washington Council.
Our members are deeply engaged in our work. In collaboration with AIA Seattle staff, member committees are responsible for educational programming, thought leadership, building partnerships, and elevating the profession in the Puget Sound region and beyond.
In addition to our primary work as a member-led non-profit, in 2011 AIA Seattle founded Design in Public, a public-facing 501(c)(3) non-profit, to unleash the design thinker in everyone to illuminate Seattle's challenges and ignite action. Design in Public produces the annual grassroots Seattle Design Festival to celebrate the ways that design makes life better for Seattle and promote public awareness of design. Our Executive Director will also have oversight for this work. AIA Seattle and Design in Public's boards are coming together in 2021 for common direction, integrated planning, and opportunities for greater innovation.
In 2015, AIA Seattle partnered with Seattle Architecture Foundation, Design in Public, and AIA Washington Council to create the Center for Architecture & Design in historic downtown Seattle. The Center is Seattle's premier public space for exhibits, programs, and conversations that explore design's role in shaping cities.
AIA Seattle is committed to identifying our next Executive Director to advance and help grow our impact in the region. This is a unique opportunity for an experienced leader and strong strategic thinker who has a passion for architecture and urban design.
Reporting to the Board of Directors, the Executive Director is responsible for managing operations and directing strategic initiatives for our professional organization – providing leadership for the organization and staff, directing strategic planning, influencing policies, supporting programs and initiatives, and enhancing outreach – to satisfy the expectations of members and maintain the viability and influence of the organization.
Our Executive Director for the past 15 years is prepared to welcome and transition our next leader. With over 125 years of history, a committed and experienced team, a strong financial position, and a dynamic and engaged board, AIA Seattle is well positioned for the future.
For more information about the job, please review the attached PDF. Questions can be directed to Christine Martin (Christine@valtasgroup.com)