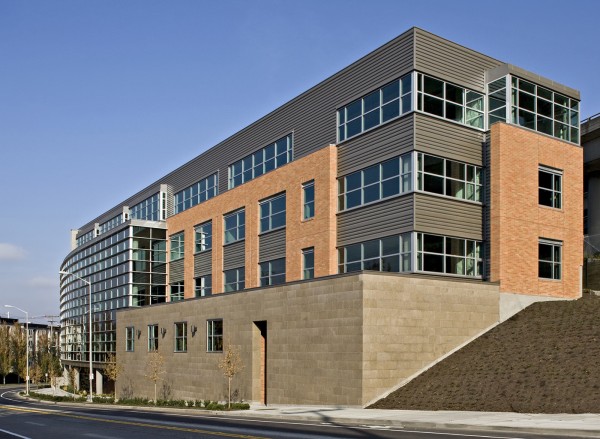 TOUR the new Eastlake building at Fred Hutchinson Cancer Research Center
Please join Puget Sound ASHRAE at the Fred Hutchinson Cancer Research Center from 4:45 to 6:30 pm for a TOUR of the recently completed Eastlake building.
Bob Cowan from the Fred Hutchinson Cancer Research Center will show tomorrow's energy strategies, in use today.  Ideas you can use in your current buildings and in your future buildings.  He will show 7 key strategies that were successfully implemented into a lab building to drive the energy cost below a neighboring Energy Star office Building. The Lab building is 30% bigger than the office building and is still costing less to operate.
Fred Hutch retrofitted the existing Eastlake building with laboratories delivering a building that is 39% more energy efficient than the average new laboratory building built in the Northwest (according to information in the Labs for the 21 Century database) and 25% better than the best.
Price: $25, Dinner will be provided at a local restaurant after the Tour
More Info: receptions@pugetsoundashrae.org
About the Presenter:
Bob Cowan is the Director of Facilities for the Fred Hutchinson Cancer Research Center. He is responsible for day to day Operations, Maintenance and Repair of the highly complex, world class, 1.5 million square foot, Fred Hutchinson Campus.   The 14 building Campus is dedicated to both Cancer Research and Treatment, has over 4,000 staff and boast of 3 Nobel Prize winners amongst the staff. Bob's been at the "Hutch" over 15 years and during that time has overseen an expansion program of more than 850,000 square feet, helped the Center win over 20  Energy Awards at both local and national level.
Bob's a retired Navy Commander; originally from Grosse Ile, Michigan. He graduated from the University of Michigan with a Bachelor's in Industrial Engineering and from the University of Florida with a Masters in Civil Engineering.