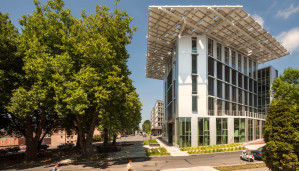 The evening will include a real "nuts and bolts tour by green engineer Steve Reidy whose firm, PAE Engineers, executed this world class MEP design.
This tour, by the high performance buildings engineer who made it happen, will focus on the detailed performance of the building's green systems with an emphasis on lessons learned in the "design vs. actual department. The tour will start with a brief overview of the systems and then a "lessons learned" session based on actual building operation. Attendees will leave with insight into maintenance requirements and reliability.
As a bonus, we will have a visit and short presentation by Kyle Hasenkox, our regional YEA chairperson. Kyle is Principal and Senior Project Manager for Rocky Point Engineering in Victoria, BC.
This event is open to all persons in the building design, construction and operations sectors. We really want to see broad participation. YEA receptions are free and include light refreshments.
Brown Paper Tickets Ticket Widget Loading…Click Here to visit the Brown Paper Tickets event page.