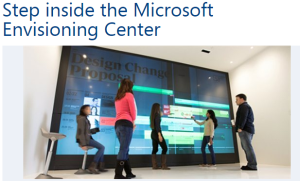 Join our ASHRAE YEA group for an interactive tour of Microsoft's our newest ideas and latest technologies!
When dramatic technology changes are on the horizon, just describing a possible future isn't enough sometimes you have to show it and let people experience it themselves. The new Envisioning Center is all about imagining how technology could be used to make life easier and more enjoyable, sometimes in small ways and sometimes in revolutionary ones.
The Envisioning Center encompasses scenarios at home, at work and places in between, and is inspired Microsoft Research and by the trends across the industry.