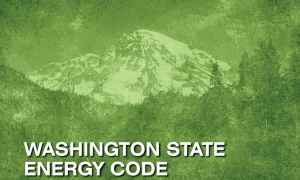 Seeking Industry input on HVAC 2015 Code Proposal
This presentation will outline the key aspects of a draft HVAC code proposal structured to have a significant impact on energy use in commercial buildings. The draft proposal is being assembled for the 2015 Washington State Energy Code cycle which starts March 1, 2015.
The draft HVAC proposal addresses zoning, sizing, and ventilation. For certain building types, the draft code language includes two key components: 1. Dedicated outdoor air systems (DOAS) with energy recovery ventilation (ERV) or demand controlled ventilation (DCV); and 2. Requirement to cycle heating and cooling equipment on and off with heating and cooling equipment that can be completely shut off at the individual zone level. The purpose of the presentation is to communicate the goals and details of the draft proposal and to gather input on applicability, market response and viability, and ideas for fine tuning the proposal.