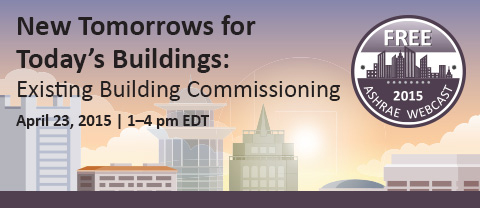 New Tomorrows for Today's Buildings
Puget Sound Chapter Viewing, Hosted by Paladino Associates
If you're planning to watch the Webcast, come watch it with other Puget Sound chapter members!
This Society sponsored Webcast will feature industry experts, including our own Ron Wilkinson, who will define the benefits of existing building commissioning for the environment, occupants, operations staff, and overall ownership costs. Viewers will be able to recognize the varied scopes of commissioning, when to apply comprehensive versus focused commissioning, and best practices in existing building commissioning specifications & contracting.
 Complimentary continental breakfast provided. Bring your lunch for a discussion session after.
More information about the Webinar can be found here: April Webcast Info.