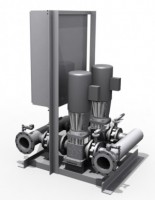 We'll discuss the necessary criteria engineers need to consider to properly design and select a domestic water pressure booster system for different applications. The talk will focus on the considerations that need to be taken by a design engineer to ensure the right equipment is selected for a range of different applications.
The discussion begins with a focus on pressure booster pump sizing that will touch on Hunter's Curve and pump pressure loss calculations. From there, the talk will move on to the main components of a typical pressure booster system with an emphasis on the booster control panel and the system hydro-pneumatic tank. Constant speed booster systems will be compared to variable speed systems both in terms of design and operating cost advantages.
Presenter: Paul Cambpell
With a BSME from Portland State University, Paul has been involved with many aspects of Plumbing and HVAC systems over the last 22 years from design, troubleshooting, to technical training.
Paul is currently Business Development Manager for Columbia Hydronics Co. (CHC) a manufacturer's representative with (10) offices in (7) Western states and over 130+ employees.
Paul has extensive experience as a Manufacturer's Representative and Package Systems Manufacturer of Plumbing, HVAC Hydronics, Steam, and Heat Transfer Products.